LOYISO DOTWANA: CHAIRMAN
Loyiso Dotwana Pr Eng
CHAIRMAN
Loyiso Dotwana became the executive director responsible for business development of NAKO ILISO in November 2000. He is a civil engineer with over 30 years of broad experience in the built environment, having worked for various construction, consulting and property development companies in the country.
In 1996, he was appointed Chief Executive Officer of NewHCo Eastern Cape, a housing development company. In 1998, he returned to consulting engineering and has built on his previous experience in municipal and industrial infrastructure, major roads and highways, storm water management and contract documentation, including COLTO, NEC and FIDIC. Mr Dotwana has also served on a number of boards, including Afrimat, Mega-Oils, Dorbyl and Emfuleni Resorts.
Save
FELIX FONGOQA: CEO
FELIX FONGOQA
CEO
Felix Fongoqa graduated from the University of the Witwatersrand with a BSc Engineering in 1988 and a Graduate Diploma in Engineering in 1990. Over the years, he has worked for a range of highly reputable consulting engineering firms in South Africa, starting as assistant engineer and progressing to junior design engineer, project engineer and project leader. In 1994, he was promoted to the position of associate at HKS Law Gibb (now Gibb Engineering and Science).
His association with NAKO ILISO goes back to February 1995, when he became the founding member of the firm Fongoqa Skade Toyi and Associates. In November 2000, this firm joined forces with Boonzaaier Dotwana & Associates to form NAKO ILISO, at which time Mr Fongoqa was appointed a director of the merging entity, becoming managing director in June 2001, and CEO in August 2004. He managed the consolidation of the merged entity while ensuring a remarkable growth in capacity, expertise, turnover and profitability for the firm.
Felix has served on several boards and community-based development organisations, including Amatola Water, Eastern Cape Provincial Housing Board, Mdantsane Community Development Trust and the Border-Kei Development Forum. He has also served on a number of professional bodies and learned societies in various capacities, including: The South African Institute of Civil Engineers (SAICE), South African Black Technical and Allied Careers Organisation (SABTACO) and Consulting Engineers South Africa (CESA).
Felix is the Executive Chairman of NAKO ILISO, Chairman of the Construction Sector Charter Council (RSA) and Mentor in the FIDIC Young Professionals Management Training Programme.
Save
CLINT KOOPMAN
Clint Koopman Pr Eng
Clint Koopman graduated from the University of Cape Town with a BSc Engineering in 1993. In 1998 he registered as a Professional Engineer and in 2006 as a Professional Construction Project Manager. Over the years, Clint has gained sought-after experience as an engineer at a number of highly-reputable consulting engineering firms, both in Namibia and South Africa.
Clint is thoroughly passionate about Structural Engineering - specifically the art and science behind bridge design, and has completed many projects in South Africa, Namibia, Zambia, Uganda and Botswana as well as in Germany and France.
Clint's association with NAKO ILISO began in July 2001, when he was appointed as company director responsible for the Free State, Northern Cape and North-West Provinces. In 2005, he was promoted to Chief Operating Officer of NAKO ILISO and in October 2007, was appointed Chief Executive Officer of NAKO ILISO – at the age of 36 years. After 11 years at the helm, Clint elected to step down from his position, to hand the reigns over to others to lead the company, and now heads the Structures Business Unit of NAKO ILISO.
Clint has proudly served on a number of boards and industry organisations. He was the convener for black business during the negotiations for the new Construction Sector Charter and is still a member of the technical review committee of the Construction Sector Council (CSCC). Clint was part of the Black Business Council in the Built Environment (BBCBE) delegation who provided valuable input into the new Preferential Procurement Policy Framework Act (PPPFA) regulations. In March 2017, he was elected as President of SABTACO, an organisation that he continues to lead with distinction.
Clint's drive and passion in the engineering profession often spills over into the active role of transformation within the construction sector, especially in the continual development of young engineers through effective mentorship. Clint is a great advocate of ethical leadership and believes that everything he does must largely be to the benefit of the broader community which he serves.
Save
GERDUS BOUWER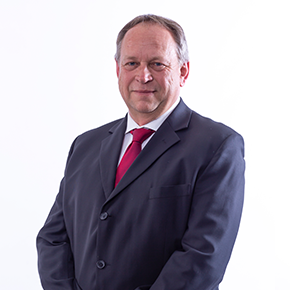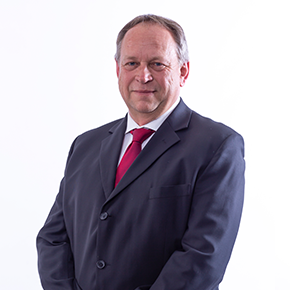 Gerdus Bouwer Pr Eng M Eng, MSAICE
Gerdus is a registered professional civil engineer with more than 25 years of experience. He has extensive knowledge of engineering and design aspects of civil and structural work in the mining and industrial environment.
After graduation, Gerdus spent 8 years at Sastech Civil Design. In this period he was exposed to and responsible for the design and management aspects of various industrial structures in the oil&gas processing environment, including a coke from coal plant, a 5km 900mm diameter steel pipeline and a major upgrading of Sasol's air separation plants.
Since its inception in 1995, Gerdus has been a director of NAKO LBE. His initial duties included taking leadership of all projects being executed in the company. Major projects include rail loading facilities, a spiral reverse osmosis plant, infrastructure for an Alfa Olefins plans, Sulphur handling plants, a new Air Separation plant and a Polypropylene plant.
In 2007, Gerdus established an office for NAKO LBE in Centurion. To date, the Centurion office has been involved in projects at the Medupi and Kusile Power Stations, Ankerlig and Gourikwa Power Plants, Expansion of the NPC Simuma Plant, as well as several projects at Sasol Secunda.
NAKO LBE became a subsidiary company of the NAKO Group in March 2014. Gerdus represented NAKO LBE during the establishment of NAKO Group and serves on the board of directors of both NAKO Group and NAKO LBE.
Save
JOHAN BOTHA
Johan Botha Pr Tech Eng
Johan Botha is the Managing Director/CEO of NAKO TRIOCON since 2001. In 1993 he was one of the founding members of Arthur Morris and Partners and in 2005 the name was changed to Triocon Consulting Engineers (Pty) Ltd.
He has been in Consulting Engineering for 30 years specialising in the design of integrated electrical and electronic systems for various commercial and industrial projects. He also has specialist knowledge and experience in the design of integrated electronic systems, such as security systems for various national Key points; Audio and Video systems; Access control and Ticketing systems; Fire detection systems; Property management systems; Energy and alarm monitoring and control systems.
In addition to his Managing Director/CEO duties, Johan Botha also serves as the NAKO TRIOCON, Financial Director and Project Director where he manages various multi-disciplinary electrical, electronic and mechanical type projects. He also serves as an Executive Director on the NAKO Group Board of Directors.
Save
ELDRED BOONZAAIER
Eldred Boonzaaier Pr Eng
CHIEF OPERATIONS OFFICER
Eldred Boonzaaier graduated from the University of Cape Town in 1987 with a BSc degree in Civil Engineering. For several years thereafter, he gained invaluable experience as a Structural Engineer before finally opening an office for Jakoet & Associates in the Eastern Cape in May 1995. He was a shareholder and a Director responsible for the Eastern Cape. During this time and thereafter, he further broadened his design experience to cover other aspects of civil engineering as well as project management. He has also completed a number of post graduate courses as well as post graduate Diplomas in Datametrics (Computer and Information Systems) and Financial Management from Unisa.
In April 1997 he started a consulting firm called Eldred Boonzaaier Consulting Engineers with himself being the only shareholder. In June 1998 Eldred Boonzaaier and Loyiso Dotwana merged their consulting engineering practices to form Boonzaaier Dotwana & Associates. In November 2000 Boonzaaier Dotwana and Associates merged with Fongoqa Skade Toyi and Associates to form ILISO
Consulting at which time Eldred was appointed Financial Director for ILISO Consulting. Eldred is currently the Chief Operations Officer at NAKO ILISO and a member of the Executive Committee.
Eldred has gained invaluable experience with the commercial, operational and strategic aspects of running a business in addition to the technical design aspects of engineering.
His experience includes structural design using various building material such as concrete, structural steel, timber, aluminium, masonry, composite materials. Experienced in Industrial, Office, Retail, Residential, Institutional, Sport, Educational and Health Facilities. Extensive experience in the design foundations on problem soils such as heaving clays, variable foundation conditions, collapsible soils etc. Eldred has also gained extensive experience as a Project Manager having been the Project Manager for the Eastern Cape Department of Roads and Public Works for the 4 phases of their Emergency
Reconstruction Programme.
Save